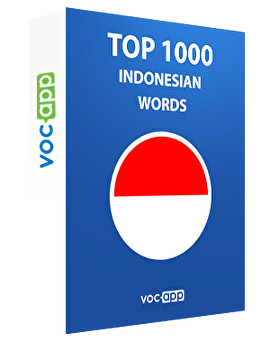 Top 1000 Indonesian Words
No more missing words!
Take the next step in your journey by learning the language spoken by more than 260 million people
Master the most important words and discuss any subject
Improve greatly your Indonesian
English and Indonesian have more in common than you think!
×
Questions?
Create account >

Select the payment method

>

Payment

>

Confirmation of registration
try it for free (50 flashcards)
Get full access
Top 1000 Indonesian words 1 - 25




25 flashcards

Top 1000 Indonesian words 26 - 50




25 flashcards

Top 1000 Indonesian words 51 - 75




25 flashcards

Top 1000 Indonesian words 76 - 100




25 flashcards

Top 1000 Indonesian words 101 - 125




25 flashcards

Top 1000 Indonesian words 126 - 150




25 flashcards

Top 1000 Indonesian words 151 - 175




25 flashcards

Top 1000 Indonesian words 176 - 200




25 flashcards

Show all lessons (40)
If you are not satisfied with the product you have bought, contact us and we will reimburse your money.
Marcin Młodzki
,
board member
(Warsaw, 1st Oct 2018)
VocApp Sp. z o.o.
ul. Mielczarskiego 8/58 | 02-798 Warszawa
TAX NUMBER: PL 951 245 79 19
vocapp@vocapp.com
Address
VocApp Sp. z o.o.
ul. Mielczarskiego 8/58
02-798 Warszawa
NIP: 951 245 79 19
REGON: 369727696
Interesting facts about the Indonesian language
Indonesian is a very interesting and unique language. Many people start learning Indonesian in order to travel and learn more about the culture and people of Indonesia. Here are some facts about Indonesian that could be interesting to those wishing to learn Indonesian:
1. It is spoken by over 155 million people as a second language and by over 20 million as a native language.
2. Its structure is not difficult, which is a definite plus for those who want to learn Indonesian.
3. Indonesian is among the most spoken languages in the world.
4. Knowing Indonesian could be useful in entire Southern Asia since it's spoken in more countries.
5. Some Indonesian words were borrowed from Chinese, Portuguese, Arabic and Sanskrit.
Learning Indonesian
Not only learning Indonesian will be a great challenge for your brain but also, it will be very useful in your future trips and will bring social opportunities. If you will learn Indonesian, you can be an independent traveller and can negotiate prices. Also, you will discover the Indonesian culture from within and experience things a simple tourist can't experience. One of the easiest and most effective ways to learn Indonesian is by learning and practising vocabulary with flashcards. Our linguists created several Indonesian courses that will teach you many new Indonesian words. Each Indonesian word will come with its Indonesian to English translation and its pronunciation. The Indonesian to English translation will help you understand the word and how to use it, while the pronunciation will help you practice how to say the word correctly so that others understand you. This course includes the 1000 most commonly used Indonesian words. You will hear example sentences with these Indonesian words in order for you to learn how and in which circumstances to use these Indonesian words. Moreover, some Indonesian words will have hints with synonyms or explanations. Start learning Indonesian now with this course of Indonesian words! It will significantly enrich your vocabulary and allow you to form your own sentences!
More Indonesian courses
There are some other professional Indonesian courses on our site: Indonesian in 1 day and Indonesian: day 2. They are perfect to learn some Indonesian phrases fast! You will learn courtesy phrases, how to form questions, useful pronouns, nouns and adjectives, numbers in Indonesian, how to talk about time and space and not only! Proceed to our other Indonesian courses and learn more Indonesian words to impress the native speakers!
---