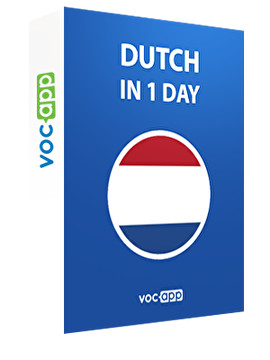 Dutch in 1 day
Learn basic Dutch without effort
Learn the basics of the Dutch vocabulary
Start reacting like a native speaker!
Get to know the language of Van Gogh, Arien Roben and Mata Hari
Our recordings will help you master the Dutch pronunciation
Sign up for free
This course is 100% free. We want to show you how fast & easy you can learn with us.
10 words in 10 seconds - 10 woorden in 60 seconden




10 flashcards

You already know that:) - Deze ken je al:)




10 flashcards

Questions - De vragen




11 flashcards

Polite expressions - De beleefde uitdrukkingen




22 flashcards

People - De personen




29 flashcards

Activities - De handelingen




29 flashcards
Why learning Dutch is important
Learning a new language is always a good idea because you get to expand your knowledge and learn a new culture. Dutch is one of the most spoken languages out there. Although most of the population in the Netherlands can speak English, it is good to know some basic Dutch words for the next time you visit there. You might think that some simple words won't do the trick but think again. Having a knowledge of some Dutch words can help you order food in a restaurant or perhaps ask other people for directions to not get lost somewhere.
Learning Dutch in 1 day with VocApp
VocApp offers you many options to learn Dutch starting from simple Dutch words to the hardest vocabulary. If you are a beginner, we suggest you check out this Dutch in 1 day course which can help you learn some useful Dutch words super quick. The course comes with 6 lessons and it's completely free. You will start learning 10 Dutch words in 10 seconds, get to learn some polite expressions or learn how to make questions in Dutch and much more. Install VocApp and find out more. Here's what this course offers to you:
1 Get to learn the basics of Dutch vocabulary
2 Start reacting like a native speaker
3 You will get to know the language of Van Gogh, Arien Roben and Mata Hari
4 Our recordings will help you master even the hardest Dutch pronunciations
5 Get to know some useful Dutch words to use in daily life
Don't forget to also check out these courses which can help improve your Dutch vocabulary even more:
Dutch day 2 - understand more and more Dutch words with VocApp
Top 500 Dutch words - become a master of verbs in Dutch and express yourself like never before
Learn Dutch words with flashcards
Another interesting and fun option VocApp offers is the usage of flashcards. Flashcards are cards that have information on two sides. On one side, it has the question and on the other, the answer. Besides, the hundreds of flashcards you can view in VocApp, you can also create your own. All you have to do is write a question on one side and the answer on the other side. This will help you memorize the Dutch words faster. You could create a list of words, create from a text or create from a photo. There is no limit on how many flashcards you can create.
---