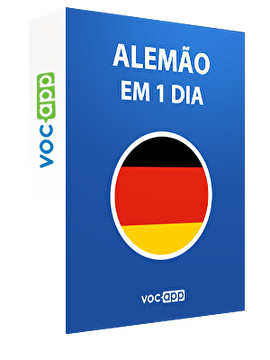 Alemão em 1 dia
Aprende vocabulário básico em alemão!
Aprende a língua de Johann Wolfgang Goethe, um dos maiores poetas de todos os tempos!
Descobre o significado da palavra intraduzível "Fingerspitzengefühl"!
Começa por estudar palavras básicas em alemão e torna-te fluente graças aos nossos áudios!
Verás que aprender alemão é canja!
Sign up for free
This course is 100% free. We want to show you how fast & easy you can learn with us.
10 palabras em 10 segundos - 10 Wörter in 60 Sekunden




10 flashcards

Isto já conheces! - Das kennst du schon!




11 flashcards

Perguntas - Fragen




15 flashcards

Expressões de cortesia - Höflichkeitsformeln




18 flashcards

Pessoas - Personen




37 flashcards

Atividades - Aktivitäten




19 flashcards

Palavras não traduzíveis - Unübersetzbare Wörter




5 flashcards
---