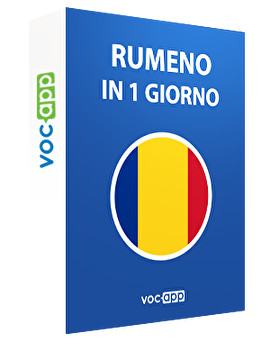 Rumeno in 1 giorno
Imparare il rumeno in un giorno è possibile!
Impara le parole base e le frasi rumene da usare quotidianamente
Scopri la bellezza della Romania e la sua cultura dall'interno
Pratica la tua pronuncia rumena per parlare come una persona del posto
Ricorda facilmente grazie al nostro metodo di ripetizione dilazionata e grazie alle divertenti flashcard!
Sign up for free
This course is 100% free. We want to show you how fast & easy you can learn with us.
10 parole in 60 secondi - 10 cuvinte în 60 de secunde




10 flashcards

Sai già questo:) - Deja ştii asta:)




9 flashcards

Domande - Întrebări




10 flashcards

Frasi di cortesia - Fraze de politeţe




18 flashcards

Persone - Persoane




28 flashcards

Attività - Activități




19 flashcards

Parole intraducibili - Cuvinte intraductibile




7 flashcards
---