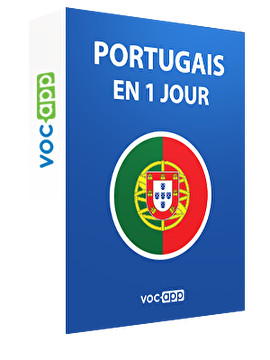 Portugais en 1 jour
Apprends le portugais en ligne !
Nombreux sont ceux qui rêvent de devenir polyglotte : cela est désormais possible grâce à nos cours ! Apprends le portugais en un rien de temps !
Si tu préfères l'apprentissage en autodidacte, ce cours est fait pour toi !
Mémoriser des mots n'est pas utile si tu ne sais pas comment les appliquer dans ta vie quotidienne, voilà pourquoi nous te proposons aussi des phrases d'exemple et la prononciation correcte de chaque mot !
Tu verras qu'apprendre le portugais c'est simple comme bonjour !
Sign up for free
This course is 100% free. We want to show you how fast & easy you can learn with us.
10 mots en 10 secondes - 10 palavras em 10 segundos




10 flashcards

Cela tu connais déjà:) - Isto já conheces:)




11 flashcards

Questions - Perguntas




14 flashcards

Formules de politesse - Expressões de cortesia




18 flashcards

Personnes - Pessoas




45 flashcards

Expressions utiles - Expressões úteis




25 flashcards

Activités - Atividades




30 flashcards

Chiffres - Números




35 flashcards

Résoudre des problèmes et des tâches à la dernière minute de manière c...




4 flashcards
---