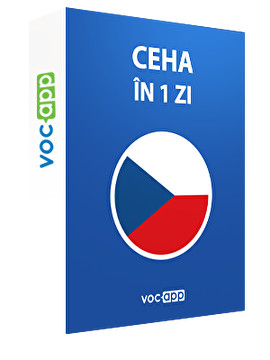 Ceha în 1 zi
Dorești să înveți ceha de bază fără prea mult efort? Ai găsit cursul perfect!
Studiază ușor datorită lecțiilor cu vocabular tematic și traducerea inclusă
Practică pronunția cu lectorul nostru până ea nu va fi perfectă
Memorează cuvintele dificile în cehă datorită Sistemului de Repetiție Spațială
Îmbogățește-ți vocabularul ca să poți începe discuții cu vorbitorii nativi
Sign up for free
This course is 100% free. We want to show you how fast & easy you can learn with us.
10 cuvinte în 60 de secunde - 10 slov v 60 sekundách




10 flashcards

Deja ştii asta:) - Tohle už znáš:)




10 flashcards

Întrebări - Otázky




10 flashcards

Fraze de politeţe - Zdvořilostní fráze




17 flashcards

Oameni - Lidé




28 flashcards

Activităţi - Aktivity




17 flashcards

Intraductibile - Nepřeložitelné




10 flashcards
---