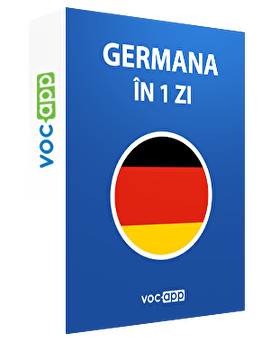 Germana în 1 zi
Visezi să cunoști germana de bază? Atunci acest curs ți se potrivește perfect!
Învață cele mai utile cuvinte și fraze în germană cu cartonașele noastre distractive!
Începe să studiezi limba marilor Nietzsche, Mozart și Freud cu noi!
Sistemul nostru de Repetiție Spațială te va ajuta să memorezi vocabularul nou pentru totdeauna!
Impresionează vorbitorii nativi cu cunoștințele tale de germană!
Sign up for free
This course is 100% free. We want to show you how fast & easy you can learn with us.
10 cuvinte în 10 secunde - 10 Wörter in 60 Sekunden




10 flashcards

Deja știi asta! - Das kennst du schon!




9 flashcards

Întrebări - Fragen




15 flashcards

Fraze de politețe - Höflichkeitsformeln




18 flashcards

Oameni - Personen




37 flashcards

Activități - Aktivitäten




19 flashcards

Cuvinte intraductibile - Unübersetzbare Wörter




9 flashcards
---