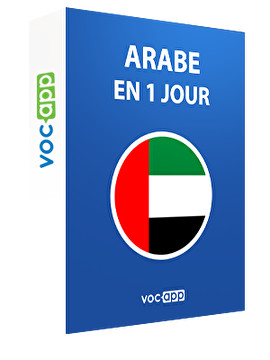 Arabe en 1 jour
Apprends les bases en arabe !
La langue arabe t'a toujours intéressé, mais apprendre une langue aussi compliqué te fais peur ?
Avec notre cours, tu pourras apprendre les bases de la langue arabe en une seule journée !
Le cours te permettras de t'habituer à la lecture de droite à gauche, à l'alphabet, et te procureras également des mots pratiques
« L'arabe en 1 jour » est une première étape à travers laquelle nous te guiderons ;)
Sign up for free
This course is 100% free. We want to show you how fast & easy you can learn with us.
10 mots en 10 secondes - 10 كلمات في 10 ثانية




10 flashcards

Tu les connais déjà:) - أنت تعرف بالفعل أن:)




9 flashcards

Questions - أسئلة




10 flashcards

Phrases de politesse - العبارات اليومية




16 flashcards

Personnes - الناس




28 flashcards

Activités - أنشطة




17 flashcards

Difficile à traduire - غير قابل للترجمة




5 flashcards
---