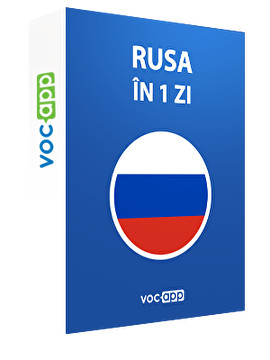 Rusa în 1 zi
Un curs perfect pentru a învăța bazele limbii ruse!
Vei cunoaște cum să te saluți și să pui întrebări în rusă!
Vei învăța expresii de politețe, principalele verbe, pronumele în rusă și nu doar atât!
Cartonașele noastre vor face memorarea simplă, iar lectorul te va învăța cum să pronunți corect!
Impresionează vorbitorii nativi cu cunoștințele tale și vocabularul tău rus!
Sign up for free
This course is 100% free. We want to show you how fast & easy you can learn with us.
10 cuvinte în 10 secunde - 10 слов за 60 секунд




10 flashcards

Ce cunoști deja:) - Ты уже это знаешь:)




10 flashcards

Întrebări - Вопросы




10 flashcards

Expresii de politețe - Любезные фразы




17 flashcards

Oameni - Люди




28 flashcards

Acțiuni - Действия




17 flashcards

Cuvinte intraductibile - Непереводимые слова




12 flashcards
---