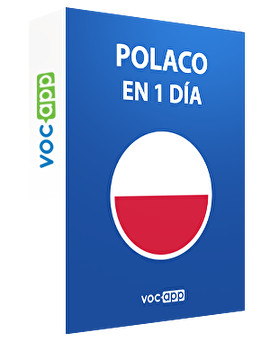 Polaco en 1 día
Aprende las bases de polaco
¡Aprende el idioma de Robert Lewandowski!
¡Escucha grupos de consonantes polacas y aprende a imitar a una serpiente!
¡Sé tan iluminado como Copérnico!
¡Impresiona a tus amigos polacos hablando en su idioma!
Sign up for free
This course is 100% free. We want to show you how fast & easy you can learn with us.
10 palabras en 60 segundos - 10 Słów w 60 sekund




10 flashcards

Lo que tú ya sabes:) - To już znasz:)




10 flashcards

Preguntas - Pytania




13 flashcards

Frases de cortesía - Zwroty grzecznościowe




18 flashcards

Personas - Osoby




33 flashcards

Actividades - Czynności




32 flashcards

Intraducible - Nieprzetłumaczalne




10 flashcards
---