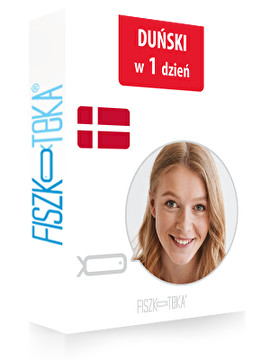 Duński w 1 dzień
Z nami się tego nauczysz!
Rozpocznij przygodę z językiem duńskim z pomocą Fiszkoteki
Poznaj język, którym mówią Viggo Mortensen, Nikolaj Coster-Waldau czy Lars von Trier!
Naucz się, co oznacza "tak" po duńsku (nie, nie znaczy tego samego co po polsku ;))
Ucz się szybciej i skuteczniej dzięki Systemowi Inteligentnych Powtórek
Sign up for free
This course is 100% free. We want to show you how fast & easy you can learn with us.
10 słów w 60 sekund - 10 ord på 60 sekunder




10 flashcards

To już wiesz:) - Det ved du allerede:)




10 flashcards

Pytania - Spørgsmål




10 flashcards

Zwroty grzecznościowe - Høflighedsfraser




17 flashcards

Ludzie - Folk




29 flashcards

Czynności - Handlinger




17 flashcards

Nieprzetłumaczalne - Uoversættelige




7 flashcards
---