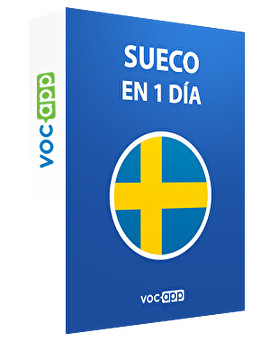 Sueco en 1 día
¡Comience su aventura de aprender el sueco con VocApp!
Este curso para principiantes te enseñará los conceptos básicos del sueco para que puedas desarrollarlos más tarde
El curso incluye lecciones sobre números, verbos comunes y frases de cortesía en sueco, entre otros
Podrás comenzar a comunicarte y conocer muy rápidamente lo básico del idioma sueco
¡Aprovecha nuestro sistema de aprendizaje con fichas y recuerda palabras y frases para siempre!
Sign up for free
This course is 100% free. We want to show you how fast & easy you can learn with us.
10 palabras en 10 segundos - 10 ord i 10 sekunder




10 flashcards

Lo que ya conoces:) - Det känner du redan:)




11 flashcards

Preguntas - Frågor




13 flashcards

Expresiones de cortesía - Artighets fraser.




17 flashcards

Personas - Personer




41 flashcards

Acciones - Handlingar




30 flashcards

Intraducible - Oöversättlig




5 flashcards
---