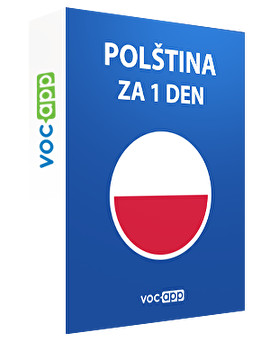 Polština za 1 den
Nauč se polsky s VocAppem!
Chceš se naučit další slovanské jazyky? Začni polštinou!
Polsko s Českem sdílí nejen hranice ale i základní prvky jazyka, učení ti proto půjde snadno
Neboj se výslovnosti polských nosovek, naše audio nahrávky ti je pomohou perfektně zvládnout
Zjisti, co vše má polština stejného s češtinou a čím se naopak liší!
Sign up for free
This course is 100% free. We want to show you how fast & easy you can learn with us.
10 Slov v 60 sekundách - 10 Słów w 60 sekund




10 flashcards

Tohle už znáš:) - To już znasz:)




10 flashcards

Otázky - Pytania




13 flashcards

Zdvořilostní fráze - Zwroty Grzecznościowe




19 flashcards

Lidé - Osoby




33 flashcards

Činnosti - Czynności




31 flashcards

Nepřeložitelné - Nieprzetłumaczalne




10 flashcards
---