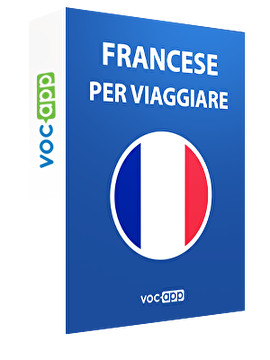 Francese per viaggiare
Pronto per la tua prossima vacanza in Francia?
Non avrai più problemi con la lingua francese la prossima volta che andrai a Parigi
VocApp ha creato dei corsi apposta per chi ha bisogno delle espressioni e delle parole tipiche che si usano quando si viaggia
Hai bisogno di dire qualcosa con il personale in aeroporto? Il n'y a pas de problème!
Le nostre schede didattiche con file audio ti aiuteranno ad avere una pronuncia perfetta
×
Questions?
Create account >

Select the payment method

>

Payment

>

Confirmation of registration
try it for free (20 flashcards)
Get full access
In aereo - En avion




46 flashcards

Automobile - En voiture




39 flashcards

Fare l'autostop - En auto-stop




10 flashcards

Long-distance bus - En bus longue distance




24 flashcards

Autobus cittadini - En bus de ville




18 flashcards

Treno - En train




33 flashcards

Traghetto - En ferry




10 flashcards

Escursione - En randonnée




28 flashcards

Show all lessons (18)
If you are not satisfied with the product you have bought, contact us and we will reimburse your money.
Marcin Młodzki
,
board member
(Warsaw, 1st Oct 2018)
VocApp Sp. z o.o.
ul. Mielczarskiego 8/58 | 02-798 Warszawa
TAX NUMBER: PL 951 245 79 19
vocapp@vocapp.com
Address
VocApp Sp. z o.o.
ul. Mielczarskiego 8/58
02-798 Warszawa
NIP: 951 245 79 19
REGON: 369727696
---