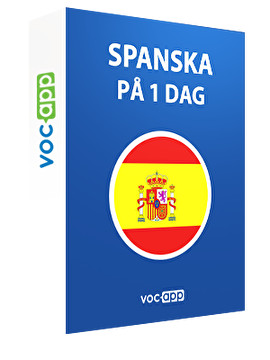 Spanska på 1 dag
Har du en passion för spansk kultur?
Kanske har du alltid tyckte om Pedro Almodovars filmer men har alltid varit tvungen att använda undertexter?
Oroa dig inte mer! Denna kurs är din utgångspunkt för att behärska det spanska språket
Denna kurs ger dig användbara grunder som spanska nummer, frågeord och vanliga verb
Utnyttja vårt flashcard inlärningssystem och kom ihåg ord och fraser för alltid!
Sign up for free
This course is 100% free. We want to show you how fast & easy you can learn with us.
10 ord i 10 sekunder - 10 palabras en 10 segundos




10 flashcards

Det känner du redan:) - Lo que ya conoces:)




11 flashcards

Frågor - Preguntas




13 flashcards

Artighets fraser - Expresiones de cortesía




17 flashcards

Personer - Personas




41 flashcards

Handlingar - Acciones




30 flashcards

Oöversättlig - Intraducible




5 flashcards
---