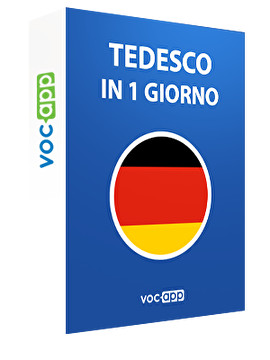 Tedesco in 1 giorno
Impara i fornalementi del tedesco in una giornata!
La lingua tedesca ti spaventa? Ora non più!
VocApp ti offre un corso semplice per imparare le parole alla base della lingua tedesca in un giorno
Tante schede didattiche che ti faranno amare questa lingua e utilissimi file audio per avere una pronuncia perfetta
Crea delle schede didattiche su misura per te e per le tue necessità per imparare al meglio il tedesco
Sign up for free
This course is 100% free. We want to show you how fast & easy you can learn with us.
10 parole in 60 secondi - 10 Wörter in 60 Sekunden




10 flashcards

Lo sai già! - Das kennst du schon!




11 flashcards

Domande - Fragen




15 flashcards

Espressioni di cortesia e frasi - Höflichkeitsformeln




18 flashcards

Persone - Personen




37 flashcards

Azioni - Aktivitäten




19 flashcards

Parole intraducibili - Unübersetzbare Wörter




9 flashcards
---