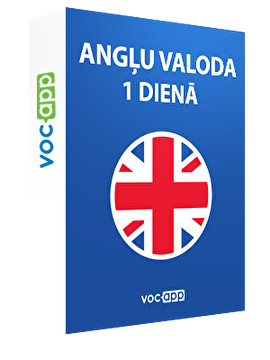 Angļu valoda 1 dienā
Iemācies runāt angļu valodā ar pārliecību!
Vai tu vēlies ātri iemācīties izplatītākās frāzes angļu valodā?
Tagad tas ir ātri un vienkārši
Mēs tev iemācīsim ikdienišķas angļu valodas frāzes, un sāc tās lietot jau tagad
Apgūsti jau šodien angļu valodas pamatus, un paplašini savu redzesloku
Sign up for free
This course is 100% free. We want to show you how fast & easy you can learn with us.
10 vārdi 60 sekundēs - 10 words in 60 seconds




10 flashcards

Tu jau to zini:) - You already know that:)




10 flashcards

Jautājumi - Questions




10 flashcards

Pieklājības frāzes - Courtesy Phrases




17 flashcards

Cilvēki - People




28 flashcards

Darbības - Activities




17 flashcards

Neiztulkojamie vārdi - Untranslatable




10 flashcards
---