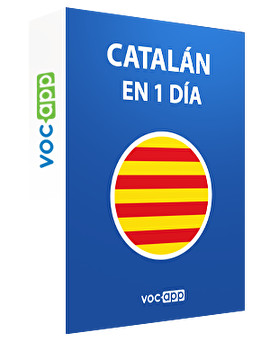 Catalán en 1 día
¡Aprende las frases básicas en catalán!
¡El catalán te ayudará a entender español, francés y otras lenguas románicas!
¡Impresiona a tus amigos animando al Barcelona en catalán!
¡Aprende el idioma de Anton Gaudí y Pep Guardiola!
¡Descubre qué significa "caliu" en catalán!
Sign up for free
This course is 100% free. We want to show you how fast & easy you can learn with us.
10 palabras en 60 segundos - 10 paraules en 60 segons




10 flashcards

Ya lo sabes:) - Ja ho saps:)




10 flashcards

Preguntas - Preguntes




9 flashcards

Frases de cortesía - Frases de cortesia




15 flashcards

gente - Gent




28 flashcards

Actividades - Activitats




17 flashcards

Intraducible - Untranslatable




7 flashcards
---