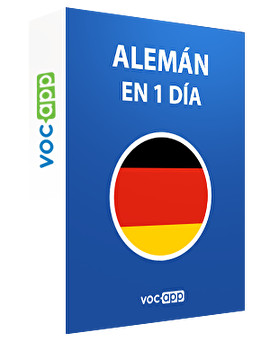 Alemán en 1 día
Aprende alemán con VocApp
¡Conozca las bases del idioma de Friedrich Nietzsche, Martin Luther y Gutenberg!
No te preocupes por la pronunciación gracias a nuestro lector
Empieza a reaccionar como un nativo
¿Mantener una conversación simple en alemán? Kein Problem!
Sign up for free
This course is 100% free. We want to show you how fast & easy you can learn with us.
10 Palabras en 60 segundos - 10 Wörter in 60 Sekunden




10 flashcards

Esto ya lo conoces:) - Das kennst du schon:)




13 flashcards

Preguntas - Fragen




15 flashcards

Frases de Cortesía - Courtesy Phrases - Höflichkeitsformeln




19 flashcards

Personas - People - Personen




34 flashcards

Las actividades - Activities - Aktivitäten




31 flashcards

Lo intraducible - Unübersetzbare Wörter




8 flashcards
---