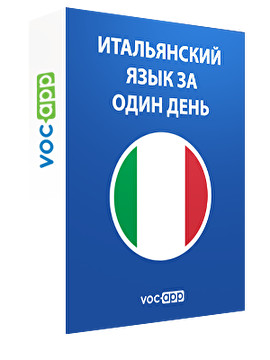 Итальянский язык за один день
Выучить итальянский за день? Теперь это возможно!
Самые нужные слова и фразы в одном курсе.
Выучите любезные фразы, чтобы использовать их во время путешествия в Италию.
Также, курс содежит вопросы на итальянском, глаголы и непереводимые слова!
Путешествуйте и разговаривайте без словаря!
Sign up for free
This course is 100% free. We want to show you how fast & easy you can learn with us.
10 слов за 60 секунд - 10 parole in un minuto




10 flashcards

Ты уже это знаешь:) - Questo lo sai già:)




10 flashcards

Вопросы - Domande




10 flashcards

Любезные фразы - Frasi di cortesia




17 flashcards

Люди - Persone




29 flashcards

Действия - Azioni




17 flashcards

Непереводимые слова - Parole intraducibili




10 flashcards
---