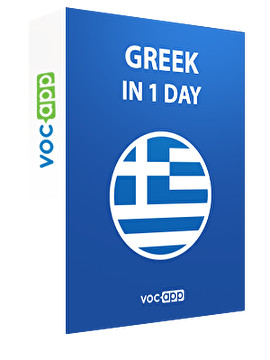 Greek in 1 day
Learn basic Greek with ease
Learn the basics of the Greek vocabulary
Start the journey of becoming a fluent Greek speaker!
Get to know the language of the country where Aristotle, Socrates and Plato lived
The examples provided will help you master Greek in no time!
Sign up for free
This course is 100% free. We want to show you how fast & easy you can learn with us.
10 words in 60 seconds - 10 λέξεις σε 60 δευτερόλεπτα




10 flashcards

You already know that:) - Τα γνωρίζεις ήδη:)




10 flashcards

Questions - Ερωτήσεις




10 flashcards

Courtesy Phrases - Φράσεις ευγενείας




17 flashcards

People - Άνθρωποι




28 flashcards

Activities - Δραστηριότητες




17 flashcards
Why you should learn Greek
You've always been passionate about learning foreign languages and the Greek language has sparked your interest? Well, there are numerous reasons to learn Greek:
1. The Greek language uses a different alphabet, which means that this will be a great exercise for your brain
2. Around 25% of the English vocabulary is of Greek origin, so learning Greek will also help you improve your English!
3. If you are interested in the Greek culture and its history, then you might want to learn Greek
4. You are planning a trip to Greece or are planning to actually move there? Being able to speak Greek with the natives will definitely help you integrate into this new culture!
5. Learn Greek to discover more about ancient history!
Once you start learning Greek a new world will open for you! As Nelson Mandela used to say, "To speak to their heart, you need to speak their language!". So, learn the basics of the Greek language and impress the natives!
Learn basic Greek vocabulary
The course Greek in 1 day will allow you to learn basic Greek vocabulary and thus start your journey with this marvelous language! As with any other language, it requires discipline, concentration and dedication to learn the language and become fluent, which is why we made sure to always remind you to revise the vocabulary you learned thanks to our spaced repetition algorithm! Being able to write in Greek is great, but to actively use a language, you have to be able to correctly pronounce each word, which is why VocApp also provides audio recordings of each word and example sentence! After this course Greek in 1 day you will no longer be able to say "This is all Greek to me"! Learning Greek is definitely not an easy task, but VocApp will help you achieve your goal!
Become fluent in Greek
If you are planning to visit Greece then you might want to expand your Greek vocabulary and become a true traveler instead of just another tourist! Take a look at our other Greek courses:
---