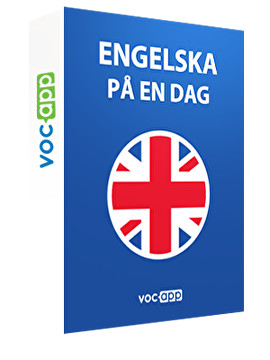 Engelska på 1 dag
Grunderna i engelska
Lär dig grunderna i engelska på en dag!
Med VocApp är det effektivt och roligt
Oroa dig inte – du kommer att lära dig!
Exempelmeningar hjälper dig att minnas orden
Sign up for free
This course is 100% free. We want to show you how fast & easy you can learn with us.
10 ord i 10 sekunder - 10 words in 10 seconds




10 flashcards

Det känner du redan:) - You already know that:)




10 flashcards

Frågor - Questions




11 flashcards

Hövlighet - Courtesy phrases




18 flashcards

Personer - People




28 flashcards

Handlingar - Actions




31 flashcards

Oöversättliga ord - Untranslatable




13 flashcards
---