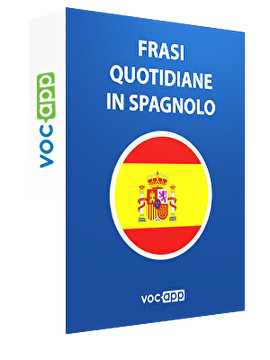 Frasi quotidiane in spagnolo
Impara le frasi più comuni in inglese in breve tempo
Aumenta la tua sicurezza per parlare in qualsiasi situazione comunicativa
Migliora il tuo livello di inglese ancora di più con queste frasi!
Non aver paura di parlare in inglese, con queste frasi puoi esprimerti liberamente
Imparerai molto di più con noi
×
Questions?
Create account >

Select the payment method

>

Payment

>

Confirmation of registration
try it for free (20 flashcards)
Get full access
Saluti, addii e cortesie - Saludos, despedidas y frases de cortesía




20 flashcards

Fare shopping - De compras




20 flashcards

A scuola - En la escuela




19 flashcards

In una banca - En un banco




20 flashcards

In un ristorante - En un restaurante




20 flashcards

In un'intervista - En una entrevista




20 flashcards

Al lavoro - En el trabajo




20 flashcards

In un hotel - En un hotel




20 flashcards

Show all lessons (26)
If you are not satisfied with the product you have bought, contact us and we will reimburse your money.
Marcin Młodzki
,
board member
(Warsaw, 1st Oct 2018)
VocApp Sp. z o.o.
ul. Mielczarskiego 8/58 | 02-798 Warszawa
TAX NUMBER: PL 951 245 79 19
vocapp@vocapp.com
Address
VocApp Sp. z o.o.
ul. Mielczarskiego 8/58
02-798 Warszawa
NIP: 951 245 79 19
REGON: 369727696
Frasi in spagnolo
Ti mancano le parole per esprimerti nella vita quotidiana in spagnolo? Usa il nostro corso per imparare della frasi carine in spagnolo ma che ti saranno anche utilissime nella vita di tutti i giorni. Dopo questo corso non ti mancheranno più le parole: imparerai belle frasi in spagnolo e frasi meno belle ma tutte molto utili.
Frasi spagnole
Se hai bisogno di chiedere informazioni o indicazioni in un paese ispanofono questo corso è quello che ci vuole. In più, ti forniremo degli esempi per apprendere queste frasi utilissime contestualizzandole. Così non ne dimenticherai mai il significato e, soprattutto, imparerai il significato giusto!
Espressioni spagnole
Se credi che arriverai a sapere tutto quello che devi conoscere della lingua spagnola per la sopravvivnza in unn paese ispanofono è perché non hai avuto ancora occasione di guardare i nostri altri corsi Spagnolo in 1 giorno e Spagnolo: giorno 2 . Inoltre, ricorda che VocApp ti ricorderà quando è ora di imparare e ripassare e, con il nostro sistema di ripetizione cadenzato, non dimenticherai mai quanto imparato e lo scolpirai per sempre nella tua memoria. Le nostre flashcard ti aiuteranno a collegare le espressioni alle immagini che ti riverranno sempre in mente ogniqualvolta hai bisogno di usare immediatamente espressioni spagnole per dialogare con i tuoi amici madrelingua. Mi raccomando, non ti perdere d'animo, VocApp è qui per farti apprendere il giusto metodo per apprendere le lingue in maniera divertente e veloce!
---