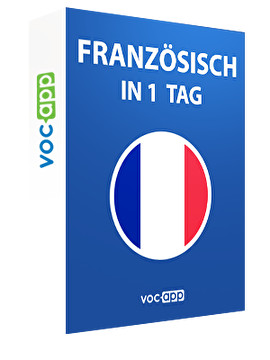 Französisch in 1 Tag
Lassen Sie das Abenteuer mit Französisch beginnen!
Entdecken Sie, dass Französisch "simple" sein kann :)
Haben Sie keine Angst vor französischer Aussprache - unsere Aufnahmen helfen Ihnen!
Erfahren Sie die grundlegenden und wichtigsten Wörter auf Französisch
Lernen Sie die Sprache Napoléons kennen!
Sign up for free
This course is 100% free. We want to show you how fast & easy you can learn with us.
10 Wörter in 10 Sekunden - 10 mots en 10 secondes




10 flashcards

Das kennst du schon:) - Cela tu connais déjà:)




11 flashcards

Fragen - Questions




12 flashcards

Höflichkeitsformeln - Formules de politesse




18 flashcards

Personen - Personnes




44 flashcards

Aktivitäten - Activités




30 flashcards

Unübersetzbar - Intraduisible




17 flashcards
---