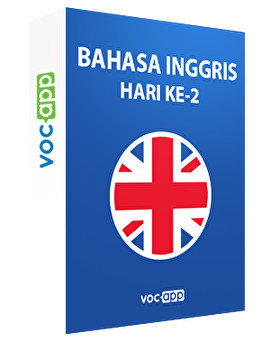 Bahasa Inggris: hari ke-2
Sempurnakan bahasa Inggris Anda dengan pelajaran ini
Matangkan bahasa Inggris Anda dengan pelajaran ini!
Pelajari beberapa aturan dasar dalam grammer bahasa Inggris dan pahami cara menggunakannya dalam percakapan!
Jangan takut dengan cara pengucapan kata dalam bahasa Inggris - sistem rekording kami akan membantu Anda menaklukkannya!
×
Questions?
Create account >

Select the payment method

>

Payment

>

Confirmation of registration
try it for free (20 flashcards)
Get full access
Percakapan biasa yang ditemukan di buku pelajaran:) - A typical conver...




15 flashcards

Pelajari hal-hal baru - Learning new things




14 flashcards

Angka - Numbers




60 flashcards

Tata bahasa yang sangat disederhanakan - Extremely simplified grammar




27 flashcards

Tempat - Space




32 flashcards

Kata benda yang sering digunakan - Useful nouns




36 flashcards

Frasa yang sering digunakan - Useful phrases




20 flashcards

Yang lainnya - Features




30 flashcards

Show all lessons (9)
If you are not satisfied with the product you have bought, contact us and we will reimburse your money.
Marcin Młodzki
,
board member
(Warsaw, 1st Oct 2018)
VocApp Sp. z o.o.
ul. Mielczarskiego 8/58 | 02-798 Warszawa
TAX NUMBER: PL 951 245 79 19
vocapp@vocapp.com
Address
VocApp Sp. z o.o.
ul. Mielczarskiego 8/58
02-798 Warszawa
NIP: 951 245 79 19
REGON: 369727696
---