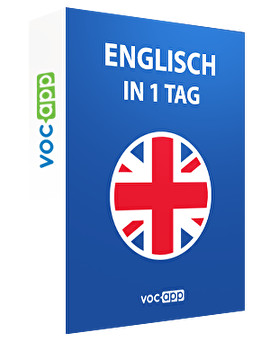 Englisch in 1 Tag
Lernen Sie Grundwortschatz und Grundausdrücke mühelos
Erfahren Sie die grundlegende und wichtigste Wörter auf Englisch
Haben Sie keine Angst vor englische Aussprache - wir bringen sie Ihnen bei!
Machen Sie sich vertraut mit den Grundregeln der englischen Grammatik und verstehen Sie deren Verwendung
Ein unkompliziertes Gespräch auf Englisch zu führen wird "easy"!
Sign up for free
This course is 100% free. We want to show you how fast & easy you can learn with us.
Unübersetzbare Wörter - Untranslatable




18 flashcards

10 Wörter in 10 Sekunden - 10 words in 60 seconds




10 flashcards

Das kennst du schon - You already know that




10 flashcards

Fragen - Questions




12 flashcards

Höflichkeitsformeln - Courtesy phrases




18 flashcards

Personen - People




33 flashcards

Aktivitäten - Activities




31 flashcards
---