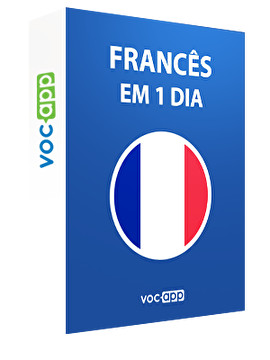 Francês em 1 dia
Aprenda palavras francesas básicas
Conheça a língua de Napoleon Bonaparte e Claude Monet!
Não se preocupe com a pronúncia francesa graças ao nosso leitor
Aprenda as expressões mais úteis em francês
Sign up for free
This course is 100% free. We want to show you how fast & easy you can learn with us.
10 palabras em 10 secundos - 10 mots en 10 secondes




10 flashcards

O que já conheces:) - Cela tu connais déjà:)




11 flashcards

Preguntas - Questions




14 flashcards

Expresiones de cortesía - Formules de politesse




18 flashcards

Personas - Personnes




45 flashcards

Expressões úteis - Expressions utiles




25 flashcards

Atividades - Activités




30 flashcards

Números - Chiffres




35 flashcards
---