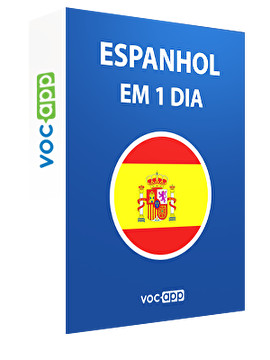 Espanhol em 1 dia
Deixa de falar portunhol e comece a falar espanhol!
Descobre a língua da Shakira, Pablo Picasso e Gabriel García Márquez.
Os nossos áudios vão ajudar-te a dominar a pronúncia espanhola.
Conversa com os teus vizinhos.
Manter uma conversa simples em espanhol? ¡No hay problema!
Sign up for free
This course is 100% free. We want to show you how fast & easy you can learn with us.
10 palabras em 10 segundos - 10 palabras en 10 segundos




10 flashcards

O que já conheces:) - Lo que ya conoces:)




11 flashcards

Preguntas - Preguntas




14 flashcards

Expresiones de cortesía - Expresiones de cortesía




18 flashcards

Personas - Personas




45 flashcards

Expressões úteis - Expresiones útiles




25 flashcards

Atividades - Acciones




30 flashcards

Números - Números




37 flashcards
---