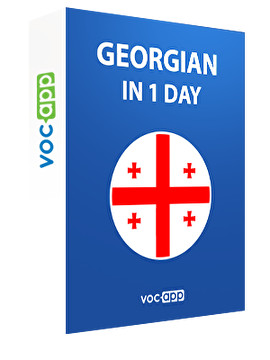 Georgian in 1 day
Start your journey with Georgian!
Learn the basics of the Georgian vocabulary
Start reacting like a native speaker!
Get to know the mother tongue of Katie Melua
Get to know some basic grammar rules and understand how to use them in practice
Sign up for free
This course is 100% free. We want to show you how fast & easy you can learn with us.
10 words in 60 seconds - 10 სიტყვა 60 წამში




10 flashcards

You already know that:) - შენ ეს უკვე იცი:)




11 flashcards

Questions - კითხვები




9 flashcards

Courtesy phrases - ფრაზები




17 flashcards

People - ხალხი




25 flashcards

Activities - აქტივობები




17 flashcards

Number - რიცხვი




66 flashcards
What makes the Georgian language so unique?
The Georgian language is a unique language because it has its own old alphabet and is one of the oldest languages in the world. It is said that the creator of the Georgian alphabet was King Parnavaz who ruled in the 4th century BC but there are many other hypotheses about the origins and the time of its creation. The Georgian script has three alphabets: Asomtavruli, Nuskhakhutsuri and Mkhedruli, the last being used today. Georgian is spoken by around 4 million people, which makes this language even more unique and interesting. Georgian borrowed many Arabic and Turkish words, which means that by learning Georgian, you will learn words from other languages. Another reason to learn Georgian is, of course, the possibility to discover the interesting and impressive Georgian culture and cuisine!
How to learn Georgian?
Learning Georgian is not that difficult! Many people think that this language is sophisticated and it will take a lot of time and effort to learn Georgian at least at a basic level. Our linguists, who are native speakers, think that learning Georgian is easy with the right resources! Our flashcard method is one of the most effective and easy ways to learn Georgian and here are the reasons why:
1. Our flashcard courses are created by professional linguists who choose the most important words and phrases to include in a course so you will learn what you need the most.
2. Each course includes flashcard lessons on different topics, from asking questions to numbers in Georgian.
3. The flashcards introduce not only Georgian words but also their Georgian to English translation. This assures that you will understand all the words.
4. Each flashcard includes an example sentence with the specific Georgian word, teaching you how to use it and in which circumstances.
5. Our lector will read all the Georgian words and phrases so that you learn the Georgian pronunciation.
More Georgian courses
This Georgian course will teach you how to ask questions, how to count in Georgian, courtesy phrases and many more things! It's a great way to learn Georgian at a basic level so you will be able to communicate with native speakers about usual things. Continue learning other languages with our flashcards. Study languages with VocApp and see how fast and easy it is!
---