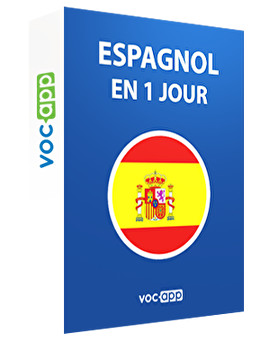 Espagnol en 1 jour
Espagnol est facile avec VocApp !
Commence à apprendre la langue de Shakira, Pablo Picasso et Gabriel García Márquez
Entraîne ton accent espagnol grâce à notre lecteur
Apprends le vocabulaire le plus important
N'oublie jamais grâce à des répétitions personnalisées
Sign up for free
This course is 100% free. We want to show you how fast & easy you can learn with us.
10 mots en 10 secondes - 10 palabras en 10 segundos




10 flashcards

Ce que tu connais déjà:) - Lo que ya conoces:)




11 flashcards

Questions - Preguntas




13 flashcards

Formules de politesse - Expresiones de cortesía




18 flashcards

Personnes - Personas




49 flashcards

Expressions utiles - Expresiones útiles




25 flashcards
---