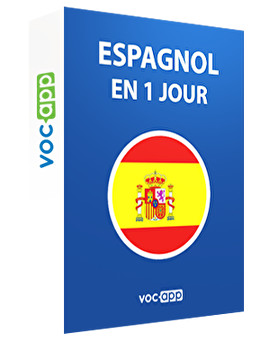 Espagnol en 1 jour
Espagnol est facile avec VocApp!
Commence à apprendre la langue de Shakira, Pablo Picasso et Gabriel García Márquez
Comprends la différence entre "ser" y "estar"
Entraîne ton accent espagnol grâce à notre lecteur
Apprends le vocabulaire le plus important
Connais l'argot espagnol pour parler comme un natif!
Sign up for free
This course is 100% free. We want to show you how fast & easy you can learn with us.
10 mots en 10 secondes - 10 palabras en 10 secundos




10 flashcards

Ce que tu connais déjà:) - Lo que ya conoces:)




11 flashcards

Questions - Preguntas




13 flashcards

Expressions de politesse - Expresiones de cortesía




18 flashcards

Personnes - Personas




49 flashcards

Expressions utiles - Expresiones útiles




25 flashcards

Activités - Acciones




30 flashcards

Chiffres - Números




34 flashcards

Choses - Cosas




33 flashcards

Qualités - Cualidades




31 flashcards

Et, ou, mais, alors - Y, o, pero, así que




28 flashcards

Temps - Tiempo




31 flashcards

Être, avoir, aller - Ser/estar, tener, ir




60 flashcards

Espace - Espacio




32 flashcards

Conversation typique d'un manuel:) - Conversación típica de un manual:)




15 flashcards

Argot, gros mots et idioties - Jerga, palabrotas y fraseologismos




19 flashcards

Grammaire extrêmement simplifiée - La gramática extremadamente simplif...




23 flashcards

On apprend de nouvelles choses - Aprendemos cosas nuevas




15 flashcards
---