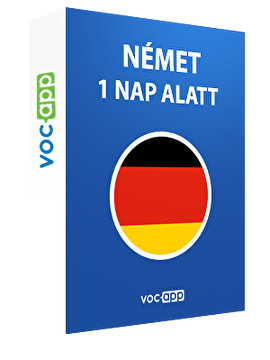 Német 1 nap alatt
Tanuld meg a legfontosabb német kifejezéseket 1 nap alatt!
Szeretnél németül tanulni? Szükséged van a munkád során a nyelvtudásra? A német nyelvtudás hasznos, hiszen rengeteg német cégnek van leányvállalata Magyarországon, így nagy előny az álláskeresésnél, ha beszéled a nyelvet.
Természetesen az utazás a másik fő ok, amiért érdemes a nyelvet megtanulni, hiszen hányan mennek Bécsbe karácsonyi vásárba vagy síelni az Alpokba...
Németországban szintén rengeteg látnivaló van és megtapasztalhatod a középkori városok hangulatát, ami a mai napig megmaradt, például az építészetben.
Bármilyen okból is tanulod a nyelvet, mindenképpen hasznodra válik ez a kurzus, amit 1 nap alatt átnézhetsz, akár utazás közben. Sok sikert kívánunk a nyelvtanuláshoz!
Sign up for free
This course is 100% free. We want to show you how fast & easy you can learn with us.
10 szó 60 másodperc alatt - 10 Wörter in 60 Sekunden




10 flashcards

Ezt már tudod is:) - Das weißt du schon:)




10 flashcards

Kérdések - Fragen




9 flashcards

Udvarias kifejezések - Höfliche Ausdrücke




17 flashcards

Emberek - Leute




26 flashcards

Igék - Verben




17 flashcards

Lefordíthatatlan - Unübersetzbar




6 flashcards
---