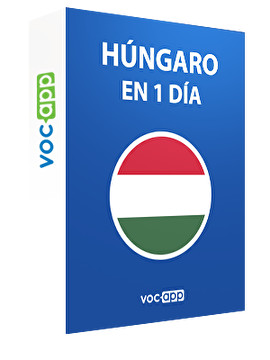 Húngaro en 1 día
Puedes empezar a aprender un idioma nuevo en 1 día, ¡intenta aprender húngaro utilizando nuestro curso!
¿Viajas a Budapest u otra ciudad en Hungría? ¿Participas en un programa Erasmus, o quieres estudiar en Hungría? Utiliza este curso, que te ofrece la base del idioma húngaro.
Puedes hacerlo en 1 día, porque no es demasiado largo, así que puedes practicar las palabras y expresiones viajando. Por lo tanto, puedes experimentar una sensación de éxito.
Este curso es una buena oportunidad para aprender las expresiones húngaras más importantes en poco tiempo.
Podrás entender algunas cosas y será un buen comienzo para aprender este idioma.
Sign up for free
This course is 100% free. We want to show you how fast & easy you can learn with us.
10 Palabras en 60 Segundos - 10 szó 60 másodperc alatt




10 flashcards

Esto ya lo conoces:) - Ezt már tudod is:)




10 flashcards

Preguntas - Kérdések




10 flashcards

Frases de Cortesía - Udvarias kifejezések




17 flashcards

Personas - Emberek




27 flashcards

Actividades - Tevékenységek




17 flashcards

Lefordíthatatlan - Intraducible




8 flashcards
---