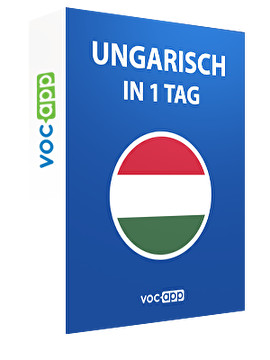 Ungarisch in 1 Tag
Innerhalb eines Tages kannst du viel lernen, nutz es aus und lern Ungarisch mit unserem Kurs!
Reist du nach Budapest oder andere Stadt in Ungarn? Nimmst du an einem Erasmus Programm teil, oder möchtest du in Ungarn studieren?
Dann kannst du diesen Kurs benutzen, weil er dir das Basiswissen der ungarischen Sprache bietet. Du kannst ihn an einem Tag schaffen!
Der Kurs ist sehr nützlich und auch nicht zu lang, also kannst du dich während deiner Reise durch den Kurs arbeiten!
Dieser Kurs ist eine gute Option, um die wichtigsten Begriffe schnell zu lernen. Damit kannst du einige Dinge schnell verstehen und es ist ein guter Anfang, um die ungarische Sprache zu lernen!
Sign up for free
This course is 100% free. We want to show you how fast & easy you can learn with us.
10 Wörter in 60 Sekunden - 10 szó 60 másodperc alatt




10 flashcards

Das weißt du schon:) - Ezt már tudod is:)




10 flashcards

Fragen - Kérdések




10 flashcards

Höfliche Ausdrücke - Udvarias kifejezések




17 flashcards

Leute - Emberek




26 flashcards

Verben - Igék




17 flashcards

Unübersetzbar - Lefordíthatatlan




8 flashcards
---