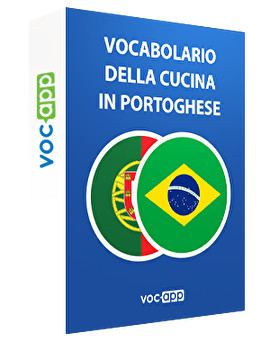 Vocabolario della cucina in portoghese
Tutte le parole portoghesi che ti servono in cucina!
La cucina è la tua passione?
Sei stanco di imparare sempre le solite parole base?
Questo corso offre oltre 200 termini tra cui ingredienti, utensili, piatti tipici… la cucina (in portoghese) non avrà più segreti per te!
Mãos à obra e bom apetite!
Sign up for free
This course is 100% free. We want to show you how fast & easy you can learn with us.
Frutta - A fruta




37 flashcards

Verdura - Os legumes




36 flashcards

Verbi - Verbos




25 flashcards

Utensili da cucina - Os utensílios de cozinha




15 flashcards

Bevande - As bebidas




13 flashcards

Spezie e condimenti - As especiarias e os condimentos




34 flashcards

Sapori - Os sabores




10 flashcards

Piatti tipici italiani - Os pratos típicos da Itália




11 flashcards

Tiramisù passo per passo - Tiramisu passo a passo




14 flashcards
---