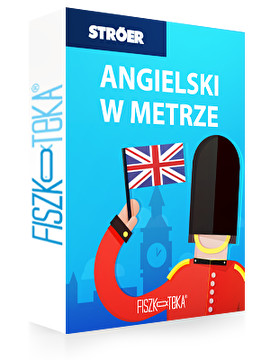 Angielski w metrze
Z nauką angielskiego Ci po drodze!
Pogłęb wiedzę zdobytą w metrze
Ucz się wygodnie dzięki lekcjom podzielonym na dwa poziomy - łatwy i trudny - oraz cztery obszary tematyczne
Zagłusz zgiełk miasta :) Dzięki załączonym nagraniom sprawnie opanujesz angielską wymowę
Nie zapomnij tego, co masz już w głowie - nasz System Inteligentnych Powtórek na pewno Ci na to nie pozwoli :)
Sign up for free
This course is 100% free. We want to show you how fast & easy you can learn with us.
Useful words - easy




86 flashcards

Useful words - hard




91 flashcards

Useful phrases - easy




65 flashcards

Useful phrases - hard




62 flashcards

Idioms - easy




65 flashcards

Idioms - hard




66 flashcards

Business English - easy




52 flashcards

Business English - hard




52 flashcards

Phrasal verbs - easy




40 flashcards

Phrasal verbs - hard




39 flashcards

Slang - easy




5 flashcards

Slang - hard




5 flashcards
---