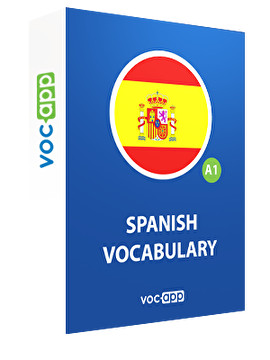 Spanish A1
You will learn that with us!
Start to learn the language of Shakira, Pablo Picasso and Gabriel García Márquez
Don't be afraid of the Spanish pronunciation - our recording will help you master it
This basic vocabulary will show you the beauty of the Spanish language
Find out some differences between Latin American Spanish and Spanish used in Spain
×
Questions?
Create account >

Select the payment method

>

Payment

>

Confirmation of registration
try it for free (79 flashcards)
Get full access
Languages, countries and nationalities - Idiomas, países y nacionalidades




82 flashcards

Time, calendar and frequency - Tiempo, calendario y frecuencia




103 flashcards

Jobs - Profesiones




76 flashcards

Introductions - Introducirse




36 flashcards

In the city - En la ciudad




81 flashcards

Greetings and farewells - Saludos y despedidas




31 flashcards

Food and drink - Comida y bebida




83 flashcards

Fashion and clothes - Moda y ropa




49 flashcards

Show all lessons (27)
If you are not satisfied with the product you have bought, contact us and we will reimburse your money.
Marcin Młodzki
,
board member
(Warsaw, 1st Oct 2018)
VocApp Sp. z o.o.
ul. Mielczarskiego 8/58 | 02-798 Warszawa
TAX NUMBER: PL 951 245 79 19
vocapp@vocapp.com
Address
VocApp Sp. z o.o.
ul. Mielczarskiego 8/58
02-798 Warszawa
NIP: 951 245 79 19
REGON: 369727696
---